BECOMING MRS. LEWIS
About
Becoming Mrs. Lewis:
The Improbable Love Story of Joy Davidman and C. S. Lewis
Hardcover:
432 Pages
Publisher:
Thomas Nelson (October 2, 2018)
In a most improbable friendship, she found love. In a world where women were silenced, she found her voice.
From
New York Times
bestselling author Patti Callahan comes an exquisite novel of Joy Davidman, the woman C. S. Lewis called "my whole world." When poet and writer Joy Davidman began writing letters to C. S. Lewis—known as Jack—she was looking for spiritual answers, not love. Love, after all, wasn't holding together her crumbling marriage. Everything about New Yorker Joy seemed ill-matched for an Oxford don and the beloved writer of Narnia, yet their minds bonded over their letters. Embarking on the adventure of her life, Joy traveled from America to England and back again, facing heartbreak and poverty, discovering friendship and faith, and against all odds, finding a love that even the threat of death couldn't destroy.
In this masterful exploration of one of the greatest love stories of modern times, we meet a brilliant writer, a fiercely independent mother, and a passionate woman who changed the life of this respected author and inspired books that still enchant us and change us. Joy lived at a time when women weren't meant to have a voice—and yet her love for Jack gave them both voices they didn't know they had.
At once a fascinating historical novel and a glimpse into a writer's life,
Becoming Mrs. Lewis
is above all a love story—a love of literature and ideas and a love between a husband and wife that, in the end, was not impossible at all.
Check out this audio clip of chapters 1 & 2: CLICK HERE

Purchase Links
My Review
I love C.S. Lewis and even studied his life and works in college—so when I heard there was a story about his wife, the book immediately became a highly anticipated read!

And upon reading "Becoming Mrs. Lewis," I was happy to discover that the author, Ms. Callahan, possesses a superb and very engaging writing style!
"Becoming Mrs. Lewis" by Patti Callahan is the story of Joy and how she became C.S. Lewis's wife (hence the title).

It's not as much a love story as more of a picture of Joy's journey (intellectual, spiritual and physical).

Joy Davidman struggles with a lot at the beginning of the book.

It is a raw portrait of a woman in a bad situation, who sometimes makes wrong choices.

She tries to find God in the midst of her struggles and to make sense of things.

She is somewhat of a feminist and ahead of her time.

She has a lot of courage.

I love reading the letters between Joy and C.S. Lewis as she reaches out to him and they develop a strong friendship.

I did start to question her feelings for Lewis though and the decisions she made while still married to another man.

But I was so happy to see that she realizes her obsessive love for Lewis and that all of her life she's been going to the wrong places to find the love she desires.

Instead of seeking men to find the love she needs, she needs to go to God for this love—and she does!

I was also happy that Lewis kept his distance and did not allow anything to happen while she was still married.
For all the C.S. Lewis fans, there are plenty of nuggets about Lewis sprinkled throughout the book, on both his life and writing.

Ms. Callahan obviously did extensive research.

I love getting to hear a lot of Lewis's thoughts and references to his works.

His discussions with Joy are fascinating.

I especially love when they talk about and describe "fairy land" and their longing for it.

It is interesting to hear Lewis describe his conversion, which came about by a conversation with J.R.R. Tolkien (author of "The Hobbit" and "The Lord of the Rings") about the One True Myth (Christ and the Kingdom of God).

I do remember hearing in college some controversial things about Lewis and his relationship with Joy.

Lewis wasn't always a conventional, conservative Christian.

I think instead of trying to glorify Lewis and Joy, the author seeks to portray a portrait of two people with human sins and struggles, who also love God and have both contributed great works to Christian literature and thinking.
Content: I give this book a PG-13 rating and it's more geared towards adults.

Some examples of the content are: a child is physically abused; a man has PTSD; a woman's husband has an affair and drinks; a woman curses, but the word isn't actually written; a man attempted suicide in the past; a woman had an affair with a married man; a man smokes; the main character recalls her experience of seeing a person commit suicide; a reference to making love; the Lord's name is taken in vain; talk of affairs and sex (nothing explicit).
Rating: I give this book 4 stars.
Genre: Christian fiction; Historical fiction; Romance
I want to thank TLC Book Tours, Patti Callahan and Thomas Nelson for the complimentary copy of this book for review. I was not required to write a positive review. The opinions I express in this review are my own. This is in accordance with the Federal Trade Commission's CFR 16, Part 255.
About Patti Callahan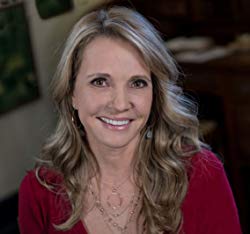 Patti Callahan (who also writes as Patti Callahan Henry) is a
New York Times
bestselling author. Patti was a finalist in the Townsend Prize for Fiction, has been an Indie Next Pick, twice an OKRA pick, and a multiple nominee for the Southern Independent Booksellers Alliance (SIBA) Novel of the Year. Her work has also been included in short story collections, anthologies, magazines and blogs. Patti attended Auburn University for her undergraduate work, and Georgia State University for her graduate degree. Once a Pediatric Clinical Nurse Specialist, she now writes full time. The mother of three children, she lives in both Mountain Brook, Alabama and Bluffton, South Carolina with her husband.
Connect with Patti
Instagram Tour Stops
Monday, October 1st:
@Rissi006
Monday, October 1st:
@hollyslittlebookreviews
Tuesday, October 2nd:
@thecaffeinated_bibliophile
Wednesday, October 3rd:
@girlsinbooks
Wednesday, October 3rd:
@readingbringsjoy
Thursday, October 4th:
@bookishmadeleine
Thursday, October 4th:
@ladyofthelibrary
Thursday, October 4th::
@theardentbiblio
Saturday, October 6th:
@acozyreader
Sunday, October 7th:
@theliterarybirds
Review Tour Stops
Monday, October 1st:
View from the Birdhouse
Tuesday, October 2nd:
@prose_and_palate
and
Prose and Palate
Wednesday, October 3rd:
Book by Book
Thursday, October 4th:
Amy's Book-et List
Friday, October 5th:
Running Through the Storms
Monday, October 8th:
Really Into This
and
@mountain_reader_
Tuesday, October 9th:
Blooming with Books
Wednesday, October 10th:
@createexploreread
Thursday, October 11th:
Jathan & Heather
Friday, October 12th:
The Lit Bitch
Monday, October 15th:
@kim_reads
Tuesday, October 16th:
Diary of a Stay at Home Mom
Wednesday, October 17th:
Openly Bookish
Thursday, October 18th:
Cheryl's Book Nook
Monday, October 22nd:
Fiction Aficionado
Monday, October 22nd:
@novelmombooks
Tuesday, October 23rd:
Read Eat Repeat
Wednesday, October 24th:
Faery Tales are Real
Thursday, October 25th:
Girl Who Reads
Friday, October 26th:
What is That Book About